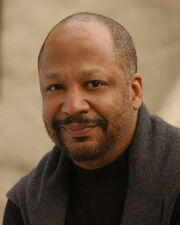 Sheldon Epps is a director on Out of Practice.
Instant Mom (2015)
How to Rock (2012)
Reed Between the Lines (2011)
True Jackson, VP (2010)
Sherri (2009)
George Lopez (2006-2007)
Hannah Montana (2007)
The Game (2007)
Stacked (2006)
Love, Inc. (2005-2006)
Joey (2004-2005)
Out of Practice (2005)
Girlfriends (2000-2005)
Talk Show Diaries (2005)
Bow (2005)
Life on a Stick (2005)
The Soluna Project (2004)
Frasier (1998-2004)
The Tracy Morgan Show (2003)
Friends (2001-2003)
What I Like About You (2003)
Everybody Loves Raymond (2002)
In-Laws (2002)
Less Than Perfect (2002)
My Wife and Kids (2002)
Veronica's Closet (2000)
Stark Raving Mad (2000)
The Jamie Foxx Show (1999)
Sister, Sister (1996-1999)
Encore! Encore! (1998)
In the House (1998)
Smart Guy (1997-1998)
Evening Shade (1994)
Blues in the Night (1987)
Directed Episodes
Edit
External Links
Edit
Ad blocker interference detected!
Wikia is a free-to-use site that makes money from advertising. We have a modified experience for viewers using ad blockers

Wikia is not accessible if you've made further modifications. Remove the custom ad blocker rule(s) and the page will load as expected.